From startups to large corporations. 30,000+ partners entrust us with their domain business.
Domain Management
Straight to the point.
The largest TLD selection.
The perfect domain management features for every kind of portfolio. Powered by the most intelligent domain search on the market.
Zone & DNS Management
DNS management
With everything that goes along with it.
Gain full access to DNS zones, name servers and resource records and carry out time-consuming tasks quickly in bulk.
Certificate Management
TLS/SSL. S/MIME. Code signing.
Security for every situation.
Order certificates and manage them through one interface. The Certificate Wizard helps you find the right encryption for websites, email, and code.
Domain Studio
It's the result that counts.
The best domain search.
Analyse several million data points under 1,000 TLDs, 30 million premium domains and 19 million marketplace domains in real time and get the perfect search result. You can use the interface or REST API.
REST API
Connecting worlds.
At the right place.
Use the REST API to connect AutoDNS to your systems and flexibly adapt functions to your needs.

"FlixBus has grown enormously over the last years. In order to meet the needs of customers in so many new countries, we looked around for an SaaS solution for easy and sound domain organization. We found the perfect domain platform for this with AutoDNS."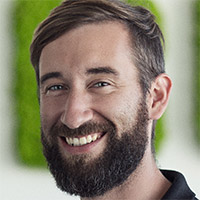 Daniel K.
Co-founder and CIO of FlixBus